Add WebApp/Website in mobile phone home screen
Read the instructions below to add the WebApp/Website of your event to your mobile home screen

Chrome

If you are using the Chrome browser after you have opened WebApp/Website, click on the button with the three dots, as you can see in the picture below: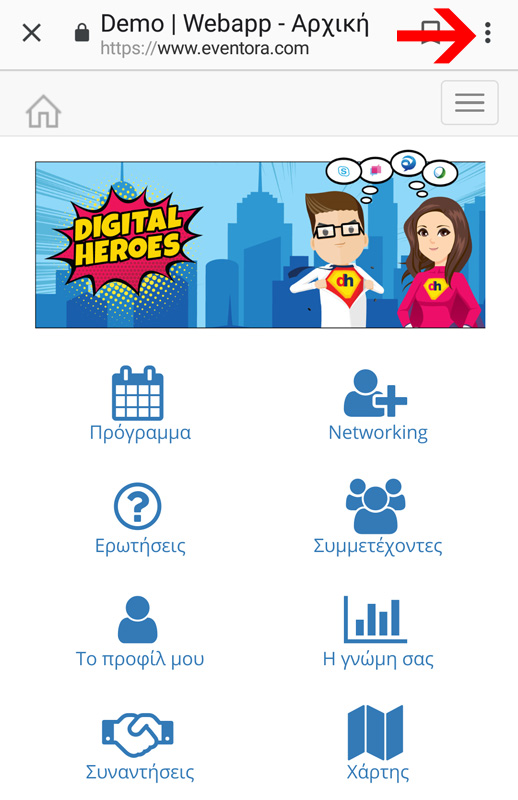 Then click on "Add to home Screen" and the relevant icon will be added to your home screen!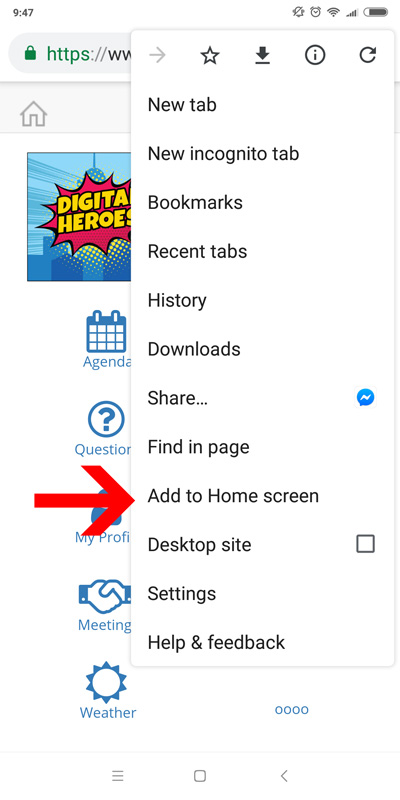 Safari
If you are using the Safari browser after you have opened WebApp, click on the Share button at the bottom of the screen

Then click "Add to Home Screen"


On the next screen, you will be prompted to enter the name of the icon.
Related Articles

Create Event Home Page

If you are a first-time user (welcome!), you are asked to create an Eventora account or login with your Facebook account. If you already have an Eventora account, use it to login. In case you are already logged in, go to Home and click Create Event. ...

Create a WebApp/Website

How can I create a WebApp/Website; Go to Online and click Create WebApp. Some pages and services will be automatically created. How can I create a page? To create a new page, click the Add new Page button. You can create as many pages as you need. ...

Send WebApp/Website Link

To send the link of your WebApp you will need to edit the relevant email message. Edit Email Message To edit it, go to Event > Customize > Templates > Advanced > WebApp Link Reminder. Do not edit the "Access WebApp" button, as it includes the WebApp ...

Embed in your website

It's easy to embed the registration form for your event or contest, in your website. Your visitors stay in your website - they are not redirected to the registration page Eventora generates. If you use RSVPs, invitations or direct links, when the ...

Create a Questionnaire / Survey

Create a Questionnaire / Survey To create one or more questionnaires go to Online > Surveys. Click New Survey. Type a title, i.e. Evaluation. Set Start Date and End Date and click Save. Click on edit button and then Add QuestionChoose Question ...