How do I get into event management?

After you sign up you will receive a link in your e-mail that you will need to click to confirm your e-mail.

Choose Μanage Events
Choose Team Events
Choose Manage

How to view the answers in detail

To view the answers go to Manage > Registration (Orders) and then click on All (Order, RSVPS, Invitations) filter, as you can see in the picture below.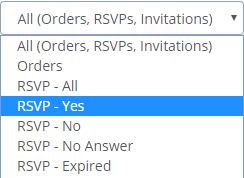 You can download the answers in excel by clicking the "X" icon

at the top right.
How do I check which RSVP email were not delivered?

You can check which email messages (RSVP or registration confirmations) were not delivered. See instructions
here
.
How do I view the answers in graph?
At Reports > More > Dashboard you can have an immediate overview of the acceptance of RSVPs.

How do I give access to my team to manage my event?